"Communicate unto the other person that which you would want him to communicate unto you if your positions were reversed."


People, like to communicate. And, in the case of job aspirants, 69.7% receive no feedback after being rejected during the screening and interviewing stages of their job candidacy. Another 53.5% of job candidates do not receive feedback after the interviewing stage. Among other reasons, many employer's simply avoid giving bad news.

Impact of a bad news can be minimized by way of how it's communicated. Recruitment process has become easy with advent of HR Technology platforms, but the Human element of communication can never be replaced in such matters.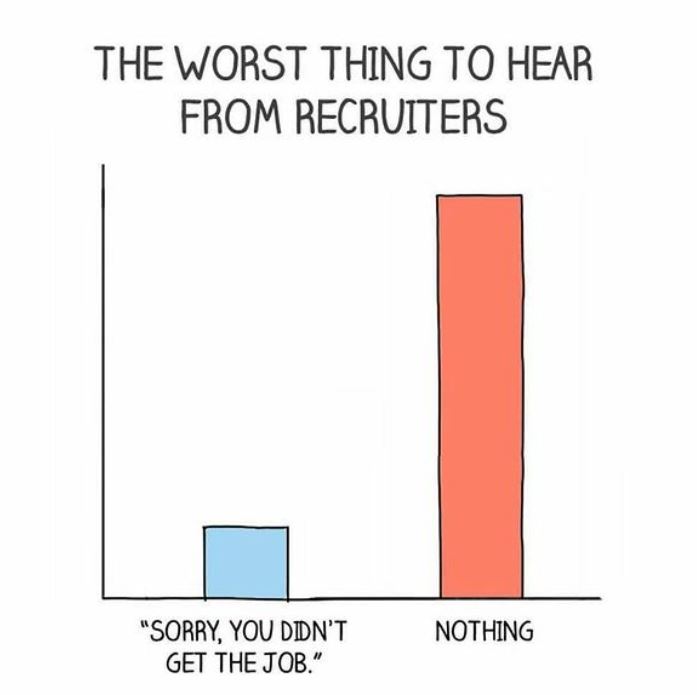 According to a research by Workable:

75% of candidates never

get to

hear back

from a company after sending an application.

42% of candidates don't reapply for a position

if they're not replied to.

22% will tell others not to apply to the company

, and even go as far as boycotting their products.
The study above tells us how important it is to keep the candidates promptly updated even with the rejection reasons. As all this in turn helps us with growing candidates pipeline for future role.


Four steps to efectively deliver negative news:-


1. Acknowledge the Facts
Your employment branding starts the moment a candidate applies for a job. Now, keeping the candidate in the dark just because we don't know how to deliver the bad news to them, is the worst thing a company can do. It is an utmost important job of a company to keep the candidate updated on their application.
In order to do so, we ourselves need to acknowledge the facts and try to empathize with the candidate as it in turn just helps us in making them admit the rejection truth.
Instead of just giving the bad news, think of alternatives as to how can you make it less upsetting, if any. Think of all this before delivering the bad news, because once you have alternate solutions ready to be given, the emotional pressure (from rejection) tends to decrease. Apologize and give alternate solutions
For eg. You can ask the candidate to go through the career page website and see if they want to apply for any other job opening.

3. Skip sugarcoating, be authentic!
Be as genuine as you can be and deliver the message with respect to the candidate. There is no point of sugarcoating the truth; it's best to provide the message with honesty on what has happened. Gauge other person's emotions while you're delivering the bad news and try to show them that you understand what they are going through and it is okay to feel how they are currently feeling. Ask them in case they have any question / concerns regarding the rejection reason and be calm enough to address them.

4. End it well
Whichever medium you are using to deliver the bad news, while ending the message try not to leave your candidate feel left hanging. End it with a positive note and good wishes for candidate's future endeavors.

Efectively turning down candidates with empathy, goes a long way in building the Employer's brand. Afterall, "Communication - the human connection, is the key to personal and career success."