The Covid-19 pandemic has nearly faded, but not without a dramatic behavioural change on how we live, operate and prioritize work. The Recruitment & hiring trends have also evolved and this is how the its shaping in the Post Pandemic era.


INSIGHT: HIRING STATISTICS Post Covid-19
36 days: The average time it takes a company to hire talent is 36 working days.
55% of companies who recruit constantly say it cuts their time-to-hire.
28 days: The average opening sat unfulfilled for 28.1 days in 2017.
33%: On average, recruiters spend a third of their week sourcing candidates.
---
The average time to hire across a range of platforms is 41 days.
An average job posting gets 250 resumes.
A candidate is 85 times more likely to be hired following team member referrals.

Top Challenges faced by Recruiters Post-Pandemic are:

Attracting quality candidates is the biggest challenge for 76% of recruiters.
Entry-level positions are the hardest to fill, according to 41% of recruiters.
Around 72.8% of recruiters struggle to find relevant candidates.
Shelf Life: Top candidates are typically only available for ten days before being hired.
46% of recruiters see themselves more as recruitment marketing specialists.
---

Top 5 Recruiting Priorities which are Critical for Recruiters:
Improving quality of hire (52%)
Increasing retention rate (24%)
Improving time-to-hire (23%)
Growing the talent pipeline (22%)
Diversity hiring (22%)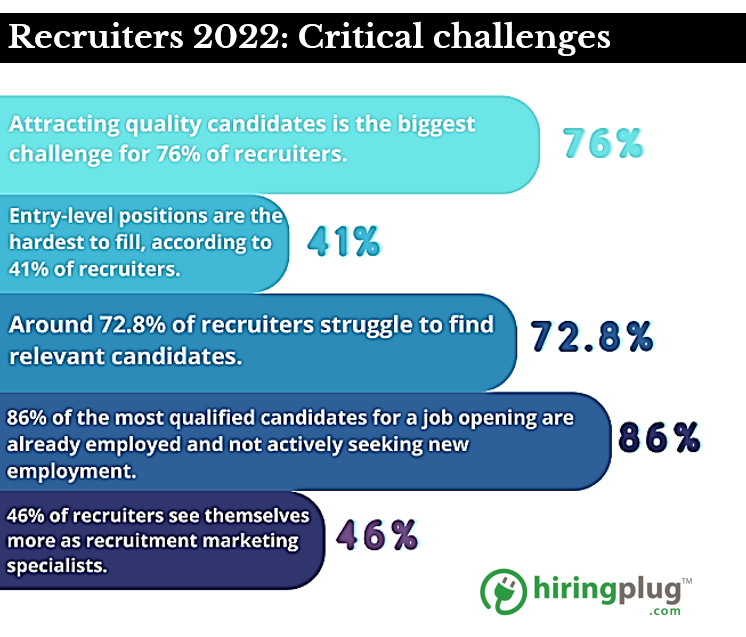 When it comes to hiring effectiveness,
80% of the top 100 grossing recruitment agencies operate in multiple countries, and
8 out of 10 recruiters screen candidates by way of references.
As per a
report
, there is also a significant impact on how a company positions itself.
---

Impact of Employer Branding in 2022

A business that's considered a reputable brand receives 50% more qualified applicants. A strong employer brand reduces turnover by 28% and recruitment costs by 50%.
86% of passive candidates evaluate a brand before applying for a job.
76% of job seekers find company diversity to be crucial.
75% of Americans would not take a job if the company had a bad reputation.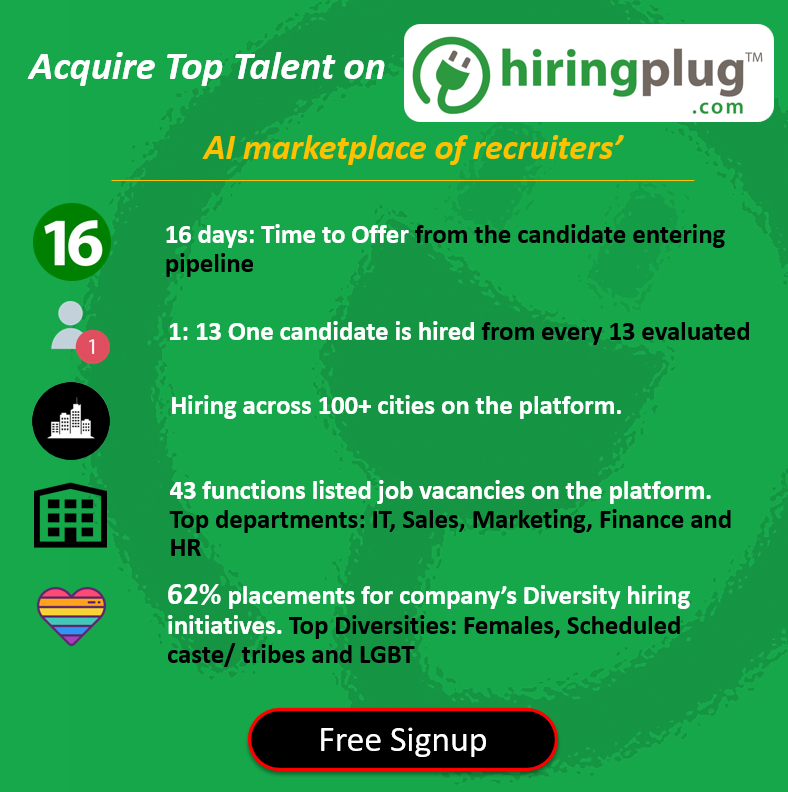 ---
INSIGHT: JOBSEEKERS
The "Great Resignation" has also impacted new joiners as
31% of new hires left their job within six months
. Looking a bit deeper,
Job-seekers are willing to sacrifice as much as 12% of their salary in exchange for improved flexibility and training.
Almost 50% of respondents said they declined a job offer because the recruitment experience was poor.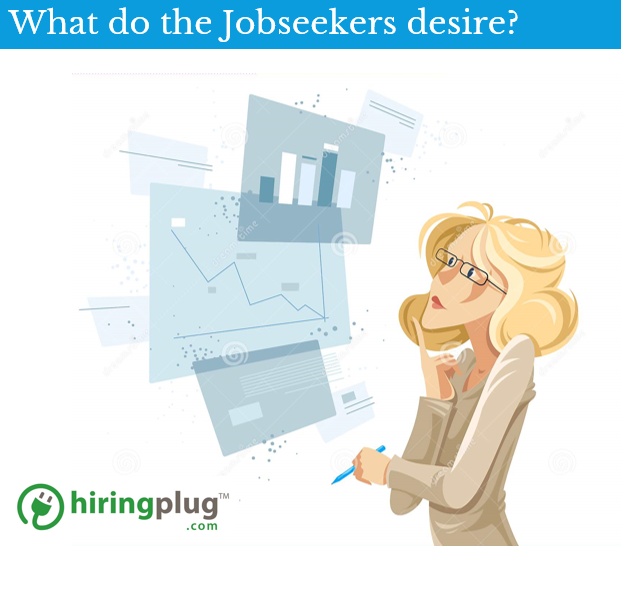 What draws interest while searching for a Job online?
Videos: If a job posting has visual elements such as images or videos, 51% of respondents said the company would be more attractive.
Compensation: If you include a salary range, it will get 75% more clicks than a listing with no salary range.
---

"Recruitment is Marketing. If you're a recruiter nowadays and you don't see yourself as a marketer, you're in the wrong profession." – Matthew Jeffrey, SAP