The skill of every human gets nurtured with time and experience. Leadership is an art that is only enhanced with practical and intellectual skill. Domestic and international firms ultimately need a good leader in order to move forward and succeed. Leaders help make a significant impact on both the employees and the workplace environment. HR Managers are constantly dedicated to making it a better working environment for its employees. Negativity in the workplace reduces employee retention but developing good leaders could initiate procedures and policies to safeguard the workforce.
"A leader is one who knows the way, goes the way, and shows the way "

Enabling changes in an organization is entirely influenced by an effective management team. Maintaining a strategic process to achieve targets is an important function that maximizes efficiency at the workplace. Learning and developing certain qualities acts as a great motivator in work productivity by the employees. Effective leadership balances healthy communication, employee satisfaction, equality in the workplace and encouraging other people to work in accordance with the aim of the organization.
"Build on your own strengths and develop your own leadership"
The leaders of today; regardless of whether they are men or women should be accountable and absolutely responsible for their decisions. Leaders prove to be the greatest advantage in case of people-orientation as the employees completely rely upon and trust the words of their leader. Firms need to train talent in order to have a good executive team in place when their current leadership retires. Success or failure of any project is highly dependent on the ability of a good leader. Good performance leaders lead their workforce in a systematic direction in order to be organized and efficient. Good leaders can make decisions on the spot and have quick thinking skills, something that needs to be developed with time and experience. Leaders are always organized, can manage their time well and utilize the workforce in such a way to have the best productivity.
"I suppose leadership at one time meant muscles, but today it means getting along with people"
Managing your talent (Employees) is imperative in order for your company to grow. Different teams in your company should be clear of the aim and have efficient time management skills. Enhancing corporate values cultivates positive mindset lowering burnouts and fulfilling corporate goals. Growing businesses need to focus on the workforce to adopt the new technology, advancing leaders would be worthy. Providing skills training and development assist in reducing turnover and help to rebuild the workforce.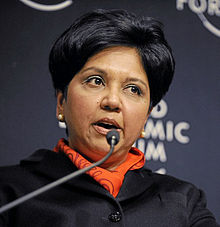 Indira Nooyi,
CEO of
PepsiCo
and has made significant changes to the company dynamic after she became CEO, like changing the company strategy to focus on customer perceived food choices according to consumer trends. Her prime focus was to achieve "Performance with purpose." Indira Nooyi also went on to become the Chairman of the PepsiCo Board. Under her leadership, PepsiCo received a
100%
rating on the Corporate Equity Index. Not only has she been consistently on the Forbes 50 Most Powerful Women in the World list, she was also the main force behind PepsiCo's acquisition of Yum! and Tropicana. The company's net profit has risen from
$2.7
billion to
$6.5
billion. She has become one of the most prominent leaders in the world, and throughout, she has kept employees as one of her main focuses. She writes approximately
400 letters
each year to parents of her employees showing her appreciation for them. She has maintained the happiness of her employees, leading to her strong in-house rating of
75%
.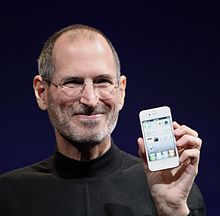 Cofounder of Apple: Steve Jobs focused towards his team. "So when a good idea comes, part of my job is to move it around, just see what different people think, get people talking about it, argue with people about it, get ideas moving among that group of 100 people, get different people together to explore different aspects of it quietly, and—just explore things." 97% of Apple employees approved of the way Steve Jobs led Apple, leading him to become one of the most successful CEOs. Employees favored how Jobs was transparent and direct in his dealings with his employees; and seldom felt the need to hide things from them. Many who worked directly with Jobs stated that he was 'kind and caring' and treated his employees like family.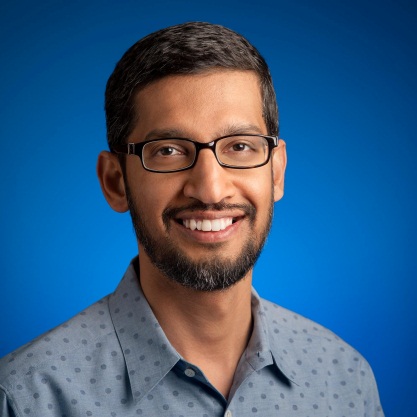 Google's CEO
Sundar Pichai
's effective leadership, where he has publicly stood up for his employees (refuting Trump's Muslim ban) have not only won him great admiration from the general public, but unending respect from his employees. Pichai makes it a point to always
interact
with his employees and keep communication clear. His executive team is efficient and handles complaints as soon as possible. They have one of the
most diverse
workforces in Silicon Valley and continue to be a pioneer in employee engagement and hiring.
"Leadership is not a position or a title, it is action and example"


Wearing a right hat at right time is crucial in today's changing corporate world; true leaders are enabled to balance between internal and external relationships. Only the winner stands out in the crowd that has an exceptional courage to overcome temporary hindrances and an ultimate vision to walk along with others.