Santa's real, and he's in HR. Observant, Finicky and Rewarding!

Have you ever questioned the nature of your reality? Of course, not (I hope not). But at some point or the other, we've all questioned the nature of Santa Claus' reality. Well, sit down if you're standing up, because I am here to end this age-old debate. Santa's real, and he's in HR. How? Just like any seasoned HR, Santa observes the children throughout the year (their activities, growth, efforts made to get in his good books) and then finally when the D-day arrives (Christmas Eve), he showers the good ones with gifts and the bad one's sulk with stockings filled with coal.
2020 made us witness tons of strange and weird things. Is it really that hard to believe that our very own Santa has a day job working in the HR department? Not really, right? He works in the God and Sons Company, where the elves take care of the production department, Jesus Christ is the manager in charge and our very own Santa heads the HR department. The knowledge that Santa's not only real, but also in HR becoming public will be the most appropriate and justified to this strange year.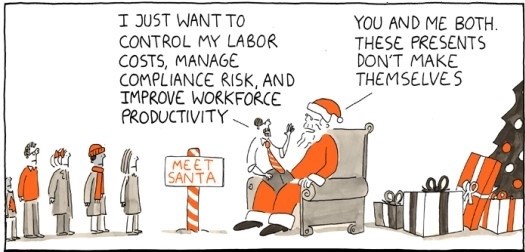 The contrast is uncanny.
Santa knows the difference between high growth and high performance. Children with bad behaviour who make an attempt to sweeten up over the year sometimes deserve as much credit and praise or even more than children with good behaviour who have not changed much from last year till today. An HR manager, whether you believe it or not, knows exactly how to differentiate between employees and award them just like Santa.
Santa understands that dedication should be rewarded meaningfully. He gives appreciation and approval that are worth striving for, not just pointless lip service. Like Santa, good HR managers know that a good performance from the employees should be backed by appropriate gifts like recommending promotions, acknowledging top performers and rewarding them, giving raises and bonuses to the deserving ones, etc.
Santa never fails to pay attention. He doesn't just form hurried decisions and snap conclusions two weeks before toy season. He watches and makes cautious, equal and precise observations all year long. This does not simply change just because during the final countdown, his "employees" rush to pull out their best actions.
Santa understands the importance of time management. He has this big ambition of delivering gifts to the children around the world in a day. Imagine his workload: One night, travelling around in his sleigh, making wishes come true. Nobody does it better than the guy in red suit when it comes to diverse environment and meeting challenging deadlines. Oh wait! HR does it and not just a day but 365 days.
Santa understands the importance of a good management process. Or at least, we assume he does. After all, Santa does have a list and he checks it twice just like an HR manager. Was that initial notice sent? Did the new employee arrive? Was the article of open position rolled out? Does your absence need recertification? and many more. HR managers work as a year-round gig who do have long lists just like Santa Claus but their lists do not contain the names of children only.
Santa leaves children with a simple roadmap for achievement that will direct them throughout the coming year. Oh wait! He doesn't, HR does. An effective HR manager job does not stop after the celebration is over. It just begins.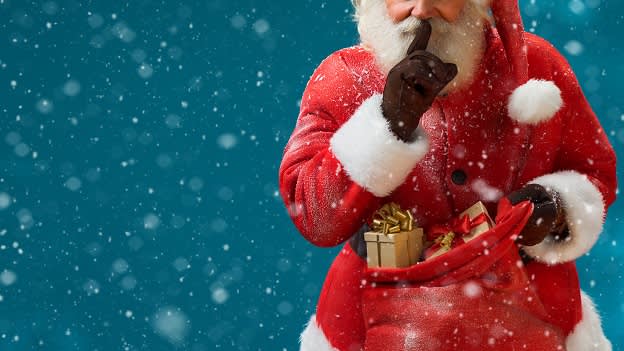 So, does Santa sound like a perfect HR? Perhaps not. Indeed, Santa works superbly, however just once per year. An HR manager works round the clock, 365 days a year to try and do something which is in best interest of the organisation. They are not only our "Secret Santa Claus" but are also so much more than that. Perhaps Santa should drop a few lines throughout the year and give input and training on a continuous premise so everybody included is perfectly clear on expectations and can cure bottlenecks all the more rapidly. HR certainly knows the importance of that!