Q. Can you please help us know your professional background?

A. I've spent the last decade, building & scaling HR Technology startups internationally in areas of Talent Acquisition and Employee engagement. Prior to this, I was fortunate to gain deep customer & business insights from my stints across diverse sectors with market leaders such as
Nestle, Airtel, ICICI Prudential and Times group
among others. I'm an electronics engineer & scholar MBA in International Business.
My keen interest is being an HR Technology evangelist in areas of Talent acquisition, Gamification, Employee Engagement, Entrepreneurship and the love to mentor startup founders, when given a chance.
Q. Can you please tell us about your venture 'hiringplug™'?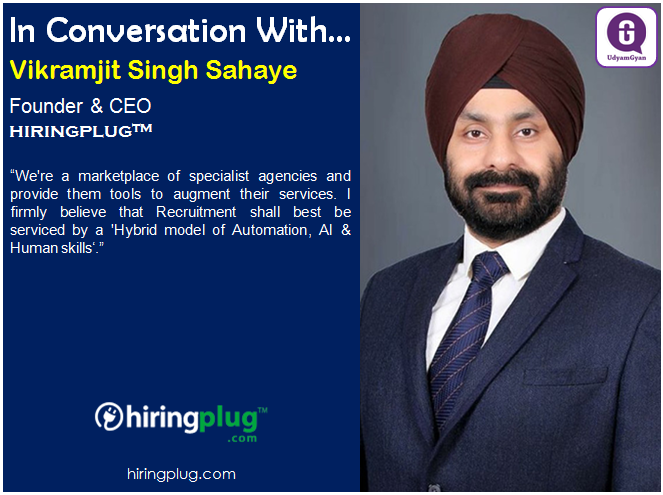 A. Having the right team, defines success of any business. Both – startups & large enterprises have unique challenges in hiring talent.
This led to the creating a platform where employers can simply post their needs and source high quality candidates from a variety of experts without the hassles of negotiation or contracts.
hiringplug
™ is
India's largest AI Marketplace of Specialist Recruitment Agencies
that helps hundreds of companies to quickly hire top talent.
Q. What is the vision of your venture 'hiringplug™'?

A. When providing livelihood is such a noble profession, why should recruitment be stressful! We're on a mission to create a pleasant hiring experience for everyone around the world.
We aim to do this by leveraging technology to combine human & artificial intelligence.
We're a marketplace of specialist agencies
and provide them tools to augment their services. I firmly believe that Recruitment shall best be serviced by a 'Hybrid model of Automation, AI & Human skills'. We plan to become a full service platform that fulfils all the needs of a hiring manager with regards to acquiring talent, globally.
Q. How do you think has the Indian market evolved over time in the HR sector? What according to you would the future in this market look like?

A. India is a vast & diverse country with massive opportunities. Numerous factors such as cost of living, culture complexities, a vast young population and economic growth have created many robust, innovative solutions using technology, especially in the Human resource domain. Covid-19 pandemic has fast forwarded us to the '
future of work
' and creating gig & distributed workforce. Talent mobility is now digital and no longer bound by distances. I believe India shall create world-class solutions based on technology across Education, Talent acquisition and Workforce Management. In the coming years, we are likely to see many Indian enterprises taking leadership positions around the world.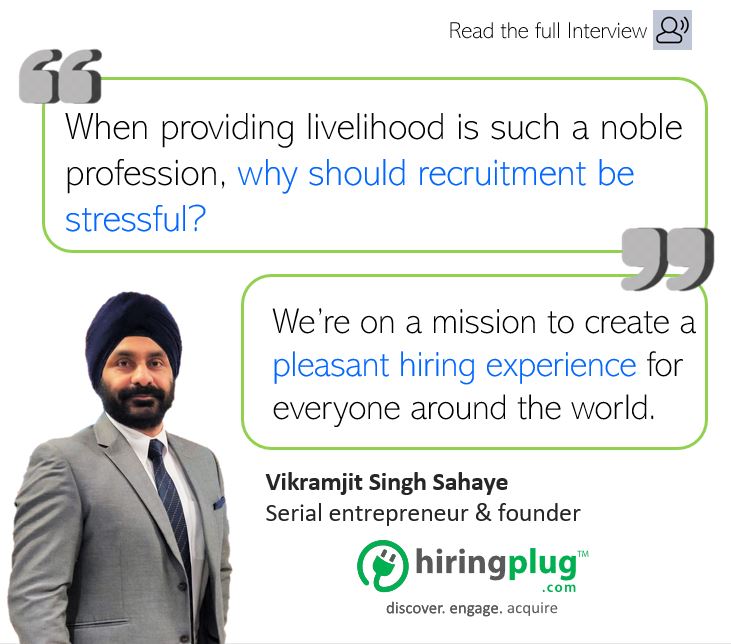 Q. What is your approach to identify business opportunities?

A. Any large 'Need', which can be solved in a consistent & scalable manner, is worth exploring. Having said that, the magic lies in its 'Execution' and not ideation. I would always look at the innovative use of technology which can bring delight to its users and holds a large revenue potential.
Q. As a business leader, what motivates you the most to keep pushing yourself to do better on a regular basis?

A. It's all about the purpose! Why are we doing, what we do.
Imagining how my small initiatives today, can change lives while turning into a magnanimous enterprise tomorrow, keeps me going. As a startup founder, my management philosophy is to respect inclusion, reward discretionary efforts and collectively learn from mistakes. We happily slog & celebrate every win in our growth journey.
Q. What has been the best moment in your professional journey so far?

A. When I look back, 'Empowerment' has worked wonders for me. My manager entrusting me with unprecedented tasks, that could shape the future of the organization, has made me innovate under pressure and forge unbroken records. This made me a Intrapreneur, founding several successful pilot programs.
At Nestle, we created the first exclusive distribution network for Chocolates & Confectionary bringing massive focus. The Executive committee at ICICI Prudential allowed me to create a new department for "Channel Development" which later became an Industry benchmark in India. Similarly, I created the first DSA channel at Airtel Delhi, a new recruitment model in collaboration with NDTV and also executed the largest ever Job fair in India at Timesjobs.com. I was blessed to have management trust on many occasions, which helped me proudly sail through professional endeavors.
Q. Describe 'hiringplug™' in one sentence.

A.
hiringplug
™ is an AI marketplace of specialist recruiters that enables employers to acquire Top talent, faster.
Q. What would be your message for aspiring entrepreneurs?

A. Its important to address a genuine need and not an ego. We're often blinded by believing that our solution is the best, by overlooking ground reality. I've seen many entrepreneurs fail because they weren't willing to listen to customers and evolve their business. This must be consciously avoided.
In the initial startup journey, it's equally important to not get distracted from the core purpose. In early stages, every learning should be used to productize, institutionalize & create a scalable solution, even if its at the cost of losing easy revenue.
Focus on building the business. 'Funding' sounds awesome, but it's only a means to building great businesses. Don't consider funding as the pinnacle of achievement. Its not always necessary to raise external funds to succeed.
'Hire character, train skill!' Surround yourself with believers who will passionately follow the purpose, no matter how bizarre it may sound. Skills can always be acquired.
Interview excerpts of
Vikramjit Singh Sahaye, Founder & CEO, hiringplug™
Conducted & published By
UdyamGyan