Marketing and recruiting, inordinately intertwined, have emerged as a distinct discipline and a core competency affecting each step of the talent acquisition cycle. Now it's time to rethink the way the organizations approach recruiting, preparing for the future of talent acquisition and to overcome the talent shortages.
Recruitment Marketing is an amalgamation of every tactic namely content marketing, social recruiting, email nurturing, job marketing, employer branding, recruiting analytics and CRM i.e., that is used by talent acquisition team to find or attract, engage and nurture candidates in order to convert them into more competent applicants to fill jobs
now& in the future.
Source : SmashFly
Recruitment marketing begins with understanding and clarifying the difference between outbound and inbound marketing.
•
Outbound marketing
is when you directly reach out to potential candidates through a technique such as posting a job description, running a paid advertisement, or working with a third-party recruiter.
•
Inbound marketing
is when you develop contents that draw interested candidates to your organization by aligning it with their area of interests and making it easily accessible through an online platform, especially on social media.
It is important to have a correct measure of both inbound and outbound marketing to attract potential candidates across various channels. Generally, inbound recruiting should have at least 30% to 40% of the mix, although this percentage is higher for start-ups. Inbound is considered to be more important for job seekers, especially millennial's, as it generally looks to have a two-way dialogue and establishes long-term relationships with potential employers. Recruiters are required to think like a marketer and add marketing tactics into their talent acquisition toolbox in order to find appropriate candidates.
Here's why one could benefit from it:-

•
There can't be stellar hires without excellent applicants and there can't be excellent unless there are great leads. So it becomes even more imperative for recruiting and recruitment- related marketing functions to co-exist, complementing each other. This will fulfill the purpose of attracting the necessary talent in today's day and age.
•
Candidates have got their preferences, so does the organization. However, there isn't any guarantee that every highly qualified candidate would be ready to shift his career at that very moment. Hence it strives to shorten the visible gap between the two.
•
Simply posting jobs of available positions would be ineffective in attracting the bold, creative and innovative especially in this competitive market. Thus recruitment marketing comes to the rescue. It's an opportunity to communicate the employer brand, educate candidates on the value as an employer and influence their decision to take their career to the organization through the channels used.
The differentiation between recruiting and recruitment marketing are as given:-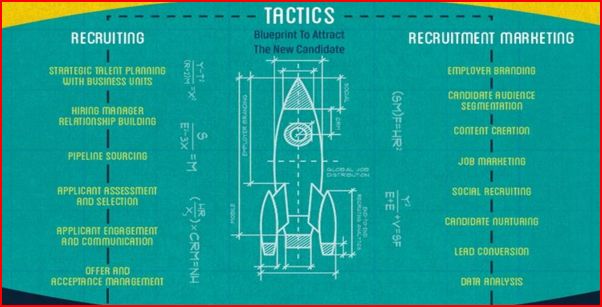 The steps to be followed for implementing the recruitment management strategy are:
1. Establish the team and goals.
2. Identifying the target candidates. (Data analytics could be used)
3. Defining the employee value proposition
4. Create your inbound content: - Content of the website that effectively displays the culture of the organization. It could comprise of a variety of author voices and media types, such as create animated and interesting videos or blog posts on community service projects.
A candidate who generally comes through employee referral programs and social networks perform better and have a low attrition rate than those from other sources as they are self selecting into your culture.
5. Make the content mobile friendly and findable.
6. Develop the appropriate inbound - outbound mix.
The recruitment industry has been evolving over the past decade. Not only has the recruitment industry embraced technology and utilized it to tap into a greater pool of candidates, it's also made it more efficient for HR departments to find the best talent. It's going to be interesting to see what is in store for recruitment in 2017, especially since there have been many developments in 2016 in terms of embracing technology. While it's clear that the recruiting process today is far better than the archaic traditional processes being used today, what remains to be seen is whether the new processes will be capable of still having the 'human' touch.