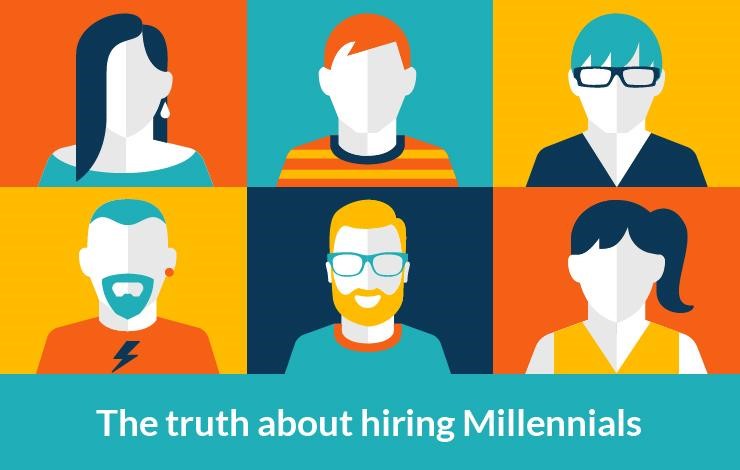 Finding good candidates who perfectly fit all boxes can prove to be a tough task. The likelihood of finding this candidate decreases by several folds in today's workforce where the number of millennials is slowly rising. It is estimated that by 2025, 75% of the workforce will comprise of Millennials. It only makes sense for businesses to understand
how to work with 5 generations in today's modern workplace
, of which the millennials will constitute a major part. As there are two sides to every coin, there are pro's and cons to hiring millennials too. As a business owner, HR advisor or Talent Acquisition specialist it is important to understand both of these.
Why hire millennials?



1. Digitally Savvy


• In a fast-revolving digital world, your business not only needs to understand how things work online and with your clients, but you also need to be equipped to anticipate the waves of digital revolution which can provide innovative opportunities.
• This can happen when candidates are digitally savvy and plugged in and know how most digital products, platforms and services work. Fortunately, most millennials were born in an era where most digital products came into existence.
• They are naturally inclined to work well with these innovations and bring this expertise to your business. Innovative ideas are key here and the millennials aren't short of them.


2. Lower hiring costs


• Lower experience translates to lower cost of hiring for the business. This is a major benefit for companies who do not have large hiring budgets and don't have the means to have a payroll for higher CTC drawing candidates.
• Another plus point for businesses is that most millennials who are beginning their careers are keen on gaining experience and settle for lower salaries in exchange for the experience of working in a real world situation where hands on an experience can be gained.


3. Great team players


• In every business, working together is the only possible way to achieving any sort of goal that you wish to seek out.
• Today's millennials are the perfect match to a diverse workforce where there is need to balance skills, expertise, enthusiasm and business objectives.


Why give a second thought to hiring millennials?


1. Insufficient experience


Experience is key making decisions and judgements. In business the right decisions can help the organization grow. However, it is one area millennial may lack sufficient experience necessary to take informed decisions.


2. Millennials have higher expectations


Most millennials feel that there is a birth right and that something is owed to them. Due to their lifestyle, most of this behaviour tends to be carried into the workplace where one must earn the right to privileges through performance and hardwork.


3. Choices and decisions are constantly changing

This generation could be the first where the desires and commitments change by the day if not the hour. Humorous as it sounds, millennials cannot stay with a single commitment for very long be it with their personal choices or work responsibilities. Due to their nature being 'free and need to explore', they constantly keep trying different things.


How to hire the right millennials?



1. Watch and Observe


One of the simplest ways to know if a millennial is worth working with is to understand their core values, if it is more about risk-taking, trying new things constantly or moving onto different areas constantly then it might be an indicator to remain cautious. You could look at the number of previous employers on the candidates CV or ask 'What their commitment may be to your business, if hired?'.


2. First hire and then decide


• Just because the employment market may be candidate-driven, does not mean you should be faced with a decision to either hire or lose talent due to market conditions. As most jobs today come with a probation period, you could build probationary periods into the contract and watch how your new millennial hires perform during this period. It could indicate if they have the potential to become a permanent employee.
• Find out how they perform under-pressure capabilities which can tell you a lot about the candidate. This can be a pivotal factor whether your business will end up hiring this candidate or not.


3. Make the interview as streamlined as possible


• Using technology to actually get the interview carried out can be a perfect way as to get the right candidate.
• As there will be likely several candidates applying for position which does not require a niche sets of skills, be prepared with preliminary rounds that can eliminate that do not match the job description and role you are looking to hire.

Hiring millennials need not be a hassle, but your business needs to be equipped to understand this diverse and ever expanding group of individuals who will be a large portion of the future workforce. While businesses have already begun working with millennials, the finer points in hiring the best of millennials is what will help businesses stay ahead and differentiate themselves from the competition.